Recent articles, including Foodbeast.com, have stated that wearing gloves may be one of the most effective ways to spread pathogens in a food service system. When using inferior food service gloves with no specified AQL, we couldn't agree more!  Human hands can contain millions of microorganisms, and combined with a glove puncture, what has been described as a "liquid bridge" of microbial contamination can flow to contact surfaces of food.
Human hands can contain millions of microorganisms, and combined with a glove puncture, a "liquid bridge" of microbial contamination can flow to food.

Why Does This Happen?
Incorrect hand hygiene practices

. The

CDC study

found that food industry workers only wash their hands 27% of the 

recommended 

time.
Donning and doffing techniques (putting on and removing gloves)

.

Proper glove usage

reduces cross-contamination between a worker's skin, gloves and food.

Cheap glove types used to handle food

. Cheaper gloves, such as vinyl and PE, can be permeable to bacteria and virus, allowing the transfer of pathogens between a worker's hands and food.

Punctures or tears in inferior gloves

, which is estimated to go unnoticed by the wearer 50% to 90% of the time*, is directly related to the quality of the glove. Glove failures are critical as they allow pathogens to transfer to the food being handled.
Inferior disposable gloves can be vehicles that spread pathogens and cause foodborne illness.
However, the risks of spreading pathogens, and ultimately foodborne illnesses, when wearing gloves are mitigated with correctly enforced food safety practices, together with using the correct type and improved quality of glove for handling food, sourced from a reputable supplier. Following these 5 points will mitigate your food safety risks:
5 Ways To Mitigate The Risks of Inferior Gloves 
1.  Purchase Quality Gloves From a Reputable Supplier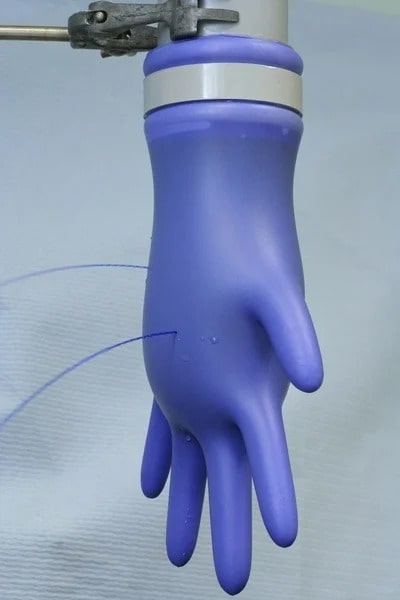 AQL testing for pinholes. There are no guidelines for the number of failures per box for food service disposable gloves.
The quality of food safety disposable gloves is determined by the quality of raw materials, manufacturing processes and quality procedures in place. At Eagle, we focus on raw material quality and manufacturing standards to reduce glove failures and toxic compounds in food. Eagle Protect disposable gloves are single-sourced, Delta Zero* tested and lot certified safe to ensure manufacturing and product consistency. 
2.  Know The AQL of The Gloves You Purchase 
Currently, there is no Acceptable Quality Level (AQL) requirement for food service disposable gloves, meaning there are no guidelines for maximum pinhole defects - no guidelines for the number of failures per box. All Eagle Protect Disposable Gloves meet or exceed medical examination grade standards - we believe the prevention of foodborne illness deserves the same glove that would treat it. Read more about why medical grade disposable gloves are essential for food safety.
3. Use The Correct Disposable Glove for Food Safety
Vinyl disposable gloves, a commonly used in the food industry because of its low price point, can contain Phthalates, BPA and other chemicals on California's Prop. 65 list known to cause cancer. Because of a vinyl gloves' "linear" molecular structure, which makes them more permeable and prone to holes and pathogen transfer. Vinyl are recommended to be worn for short periods only, and for intermittent or non-food contact areas.
The draft FDA guidance for the Control of Listeria Monocytogenes in RTE Foods, recommends that "gloves …. be made of impermeable material," which would not include vinyl or PE disposable gloves.


IN EARLY RESULTS, VINYL GLOVES ARE 

THREE TIMES

 MORE PRONE TO CROSS-CONTAMINATION THAN CLEAN SKIN
Vinyl gloves have been described by some as "infection control nightmares," (Michaels, B. & T. Ayers), and are recommended to be worn for short periods only, and for intermittent or non-food contact areas.
With minimal or no increase in cost, these issues can be mitigated with the use of nitrile gloves. Read more about why Nitrile gloves are the most effective food safety gloves. 
4. Include disposable glove usage in food safety audits
The team at Eagle Protect are food safety experts, and we offer our customers personal onsite audits of their disposable glove and clothing usage. With expertise in correct product selection and best use, together with an improved quality of products, Eagle Protect can assist and enhance your food safety programs.
 
5. Conduct ongoing research on improvement of food safety
We are conducting a range of scientific studies with the highly-regarded food safety expert Barry Michaels**, author of the article referenced by Foodbeast. View the results of Barry's work on The Top 6 Hazards of Cheap Disposable Gloves.
Companies are often looking at ways to cut expenses, and cheap gloves may seem to be a cost saving. However, the false economy of cheap food safe disposable gloves can and do affect food safety and business risk.  
Disposable gloves should NOT be used to replace correct hand hygiene and disposable glove procedures. However, when the correct type of quality glove is used for food handling, it adds an essential and effective layer to any business's food safety procedures.
Eagle Protect is a supplier of certified food safe disposable gloves and clothing, and is dedicated to improving the safety of the US Food Industry (and public).
Click below for more information on Eagle Protect or to talk to one of our food safety experts.
*Full details and references can be found in the complete Glove Hazard Analysis & Mitigation Strategies White Paper written by Barry Michaels and Professor Christopher Griffith. Contact us for more information.
**Barry Michaels is an international scientific consultant on food safety and an independent consultant to academic institutions, government, industry and nonprofit organizations. He and writing collaborator Professor Griffith have worked on behalf of the B. Michaels Group Inc., an international scientific consultancy organization. Michaels & Griffith each have a lifetime of experience in the fields of infectious disease investigation, control and prevention in food and healthcare industries.
Photo Credits: Lead image courtesy of jk1991 at FreeDigitalPhotos.net. Watertightness test image UKAS accredited.