Using FDA award-winning technology, Eagle Protect's clean supply chain guarantees Eagle products are sourced responsibly and are consistently high-quality, protecting their customers' brand reputation.
---
Eagle has partnered with FDA award-winning supply chain traceability platform Rfider and is revolutionizing the glove industry by capturing, securing and sharing activity across Eagle's supply chain to mitigate risks associated with single-use gloves and glove fraud.
Product Fraud


Product fraud within the PPE industry, particularly disposable gloves, is a major issue. Reject and counterfeit gloves have flooded the market since the supply and demand deficit of the pandemic. Poor quality gloves made with cheap and toxic materials cause safety issues to glove users across all industries; product recalls and can affect brand reputation.

Labor Rights Violations


Labor abuse and exploitation of workers in disposable glove factories have been highlighted for many years. Recent pressure on glove manufacturers to produce at absolute capacity during the pandemic has contributed to new violations of labor abuse and exploitation of workers.

Product Testing


The hidden risks of glove contamination result from the largely unregulated production and manufacturing of gloves, with limited and infrequent glove compliance testing on import to the U.S. The risk of glove contamination can be mitigated by third-party testing, such as Eagle's Delta Zero™ proprietary glove verification.
Benefit To You
As a trusted and reputable supplier to hundreds of companies across multiple industries, Eagle is focused on safeguarding your staff, customers and company's reputation and bottom line.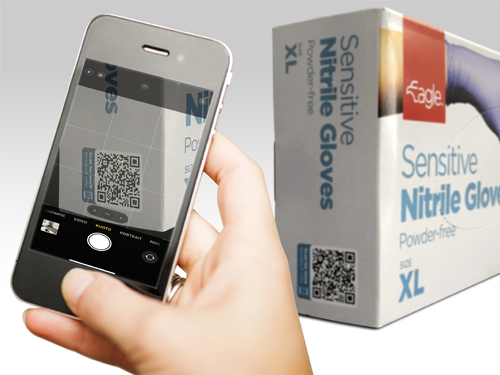 With this new traceability technology unique to our industry, the highlighted issues above can be avoided by providing instant information about glove origin, testing and an overall end-to-end journey through the glove supply chain. 
Using the built-in phone camera, 'scan' our individualized QR code on the glove box and compare the physical information in your hand to the digital data scanned - further verifying the authenticity of the glove you intend to use. You will be able to see the real journey, history and story behind each and every glove you scan with different lot numbers. 
Final Thoughts
Like many other industries, consumers are demanding safer products, greater transparency and digital age convenience from the brands they choose. By partnering with Rfider, Eagle hopes to enable consumers to make more informed purchase and usage decisions. Starting with the right information instantly to hand, we'll help mitigate the hidden risks to their business and customers. 
Interested to find out more? Talk to our glove experts today about safeguarding what matters most to your business.