Labor rights abuse in disposable glove manufacturing is regularly reported, the repercussions of which have now resulted in the US banning the import of gloves from a large Malaysian glove manufacturer, WRP Asia Pacific. Under US law, it is illegal to import goods into the US that are made wholly or in part by forced labor, which includes convict labor, indentured labor and forced or indentured child labor.


It is illegal

to import goods into the US that are made wholly or in part by forced labor
Earlier this year WRP Asia Pacific, reported to supply the UK's National Health Service, was taken to court for withholding the salaries of its workers in Bangladesh and Nepal, triggering a strike by 2,000 staff. After investigation, the company was found to have committed labor offenses including withholding wages for three months, forced and unpaid overtime, unfair pay cuts, wrongful working hours during break and public holidays and passport confiscation. The three-day strike ended on the same day after the company agreed to pay the outstanding wages.   
Further exposed labor violations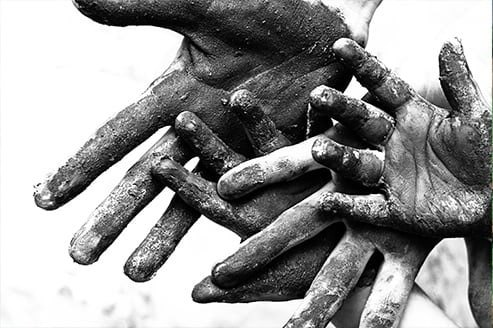 Last year, Reuters highlighted labor abuse and exploitation of workers in other Malaysian factories of a major US glove supplier. Malaysian company Top Glove is the world's largest manufacturer of disposable gloves, producing up to 60.5 billion gloves per year for health, elder care, food and industrial industries. This investigation again exposed forced labor and migrant worker exploitation throughout Top Glove's vast network of factories.
In 2015, the British Medical Association (BMA) Medical Fair and Ethical Trade group convened to tackle labor rights abuse in the medical (disposable) gloves manufacturing industry. Their report "In Good Hands. Tackling labor rights concerns in the manufacture of medical gloves" uncovered numerous labor rights abuse reports of Top Glove and other manufacturers. 
WRP's stated mission "to generate above industry returns to our shareholders" is a race to the bottom of the lowest cost of production to satisfy shareholder and end user demands. Worker labor exploitation is an obvious and ongoing consequence.  
Your brand could be at risk
As the majority of the production of Top Glove and WRP is for other global brands, including global glove supplier Ansell (as reported by the BMA), labor rights issues can be hidden. Your company's reputation could be affected. Knowledge and proof of supply chain transparency in the product that protects your hands, product and brand should be demanded. Ensuring glove suppliers personally visit factories and regularly audit labor conditions, environmental impact and quality control are essential to combat labor abuse. Additionally, third-party verification by recognized organizations such as Child Labor Free* is a further commitment to transparency in suppliers' supply chains.
The world is becoming a more transparent place and consumers and businesses have the power to change supply chain violations with their purchasing. Don't put your brand reputation at risk, partner with a fully transparent disposable glove supplier. Ask for first-hand proof of this from your glove supplier. 
*The organisation behind Child Labor Free has ceased offering accreditation renewal, effective December 2020.