It's estimated 48 million people become sick, 128,000 are hospitalized and around 3,000 die from foodborne illness each year in the US. Both the FDA and CDC have recognized disposable gloves play a role in these statistics, with gloves and glove cross-contamination implicated as a contributory cause in around 15%1 of foodservice foodborne outbreaks investigated.  
Have you considered bacteria, including Staphylococcus aureus and E. coli. can grow in unused glove boxes due to a lack of optimal factory hygiene during the manufacturing process?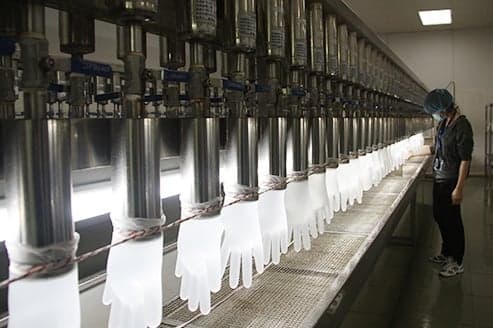 Worker verifies disposable nitrile gloves meet Eagle Protect's high quality standards
Glove Contamination Starts at the Factory
One of the many shortcuts common in the low-cost manufacturing of disposable gloves is the reduction of wash-tank clean-out or water quality. This leads to a longer build-up of microbes and chemical on the gloves, which can subsequently have food worker and health consequences.
Studies of bacterial contamination of unused protective gloves have indicated environmental contaminants of up to 10,000 bacteria per glove and skin commensals ranging up to 1,000 colony forming units (CFU) per glove.2, 3, 4 Because single use disposable gloves are non-sterile, there is a possibility of bacteria continuing to grow after they are packaged. A high bacteria load can indicate a lack of optimal hygiene during the manufacturing process.
A well-regarded study conducted in New Zealand under hospital conditions reported disturbing information on commercially available disposable nitrile gloves:
Environmental bacteria, particularly Bacillus species, were present on 31/38 (81.6%) of (disposable glove) samples, and half (19/38) the samples were contaminated with skin commensals.

The presence of skin commensals in boxes opened on day 0 indicates the passage of bacteria from someone's hands (likely, or some other part of the body) potentially during the manufacturing process.

Over 80% of gloves on opening of the box were contaminated with bacteria.
This may not be of danger, but most likely an implication of the sanitary conditions (or lack thereof) in the offshore glove production and packing facility. While a certain amount of environmental bacteria are inevitable in the manufacturing process, an effort should be made to keep levels to a minimum because they are an infection risk, especially for people who are immunocompromised.
An estimated 30 billion protective gloves are used in the US food industry each year. With studies showing unused non-sterile gloves can become contaminated, reliable and consistent glove sourcing is essential to stop the spread of pathogens to food and other contact surfaces.
Due to rigorous quality procedures and standards of manufacturing, the testing of total bacterial count for Eagle Protect nitrile gloves immediately drawn from the production line, after 6 months of aging and after 1 year of aging = 0.  
Protect your product and customers, choose a reliable glove supplier with known and rigorous quality control testing and manufacturing standards in place.
Written by: Lynda Ronaldson, VP Marketing
Michaels, B 2018. Determination of the % of Food-borne Outbreaks (FBIs) Attributed to Glove-Related Cross-Contamination Causes.

Cornwall J, Hughes K, Theis J-C, Brooks H. 2006. Bacterial Contamination of Unused, Disposable Non-Sterile Gloves on a Hospital Orthopaedic Ward.  Am. J. Infect. Cont. 34(3):128-30.

Ferreira AM, de Andrade D, Haas VJ. 2011. Bacterial contamination of non-sterile disposable gloves before use. Rev. esc. enferm. USP.  45(3).

Hughes KA, Cornwall J, Theis JC, Brooks HJ. 2013. Bacterial contamination of unused, disposable non-sterile gloves on a hospital orthopaedic ward. Australas Med J. 2013 Jun 30;6(6):331-8.

Kramer A, Assadian O. 2016. Indications and the requirements for single-use medical gloves. GMS Hyg Infect Control. 2016; 11: Doc01.