Occupational skin disease (OSD) and injuries to the hand and upper limb (musculoskeletal disorders - MSDS) are hazards for any worker wearing cheap disposable gloves.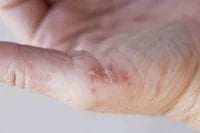 Contact dermatitis caused by cheap disposable gloves
Annually around 1.87 million American workers suffer from OSD at a total annual cost of up to $2 billion. The hand is the most common site affected by OSD, with protective gloves found to be the most common primary cause. In one study (Cahill et al, 2012) of over 2,000 patients, allergic contact dermatitis was diagnosed in over 50% of patients with OSD, with the accelerators found in disposable gloves a source of dermatitis.
Skin Irritation & Allergies
Wearing disposable gloves can be challenging for workers with sensitive skin. Whether it be allergies or skin sensitivities causing the issues, it can be extremely uncomfortable and lead to the worker requiring time away from work. 
The Mayo Clinic defines two types of skin irritation as:
Allergic contact dermatitis: This reaction results from the chemical additives used during manufacturing. The main symptom is a skin rash with the formation of blisters 24 to 48 hours after exposure, similar to poison ivy.

Irritant contact dermatitis: Not an allergy, this skin irritation is caused by wearing rubber gloves or exposure to the powder inside them. Symptoms include dry, itchy, irritated areas, usually on the hands.
Why do gloves irritate my skin?
There are a few reasons why disposable gloves cause skin irritation.
Glove Raw Materials
The quality of glove ingredients is directly proportional to the likelihood the glove will cause skin irritation for the wearer. Higher quality raw materials drastically reduce the occurrence of skin allergies and irritation caused by disposable gloves. Unreliable manufacturers save money by adding cheaper chemicals and ingredients to the glove raw material 'recipe'. Gloves made with these fillers are more likely to cause skin irritation and can provide a toxic risk to the wearer. Cheaply made gloves also increase failure rates, causing gloves to frequently rip. 
Manufacturing Processes
While a disposable glove is being manufactured there are a few steps trustworthy factories take to reduce the risk of skin irritation. If you are interested in seeing the process, this video shows how disposable gloves are made. 
It really boils down, no pun intended, to the cleanliness of the water used. Glove production is a water-intensive process. If the water used in wash and leaching tanks is contaminated or insufficiently heated, chemicals and other irritants can remain and contaminate the gloves - increasing the risk they will irritate the wearer's skin.
"I started using Eagle gloves after having a skin reaction called Dyshidrosis. I ordered the Sensitive nitriles from Eagle and I have not had an outbreak yet."
Heat & Moisture
Skin irritation can be caused by the warm, damp environment created by wearing disposable gloves. This skin irritation caused by disposable gloves is called contact urticaria, which is due to hand perspiration and lack of ventilation inside the glove. Some workers' hands have a higher tendency to sweat, increasing this irritation risk. Wearing a glove made with higher quality materials and manufacturing processes can help to reduce hand perspiration.
Powdered Gloves
Originally gloves were powdered with the intention of making them easier to put on and take off, absorbing sweat and reducing the risk of damaging the glove. Powdered gloves usually contain cornstarch powder, but this can be cut with cheaper materials in a way for manufacturers to save more money. 
Research has shown that the powder can absorb latex particles, predisposing people to latex glove allergies. In 2016, the FDA proposed a ban on most powdered medical gloves. "Although powdered synthetic gloves do not present the risk of allergic reactions, these devices are associated with an extensive list of potentially serious adverse events, including severe airway inflammation, wound inflammation, and post-surgical adhesions, which are bands of fibrous scar tissue that form between internal organs and tissues."
At Eagle Protect, we do not sell powdered disposable gloves. We firmly believe that a high-quality glove's performance will be more than adequate and powdered gloves introduce unnecessary risk to the wearer and the patient or product being handled.
Latex
The American College of Allergy, Asthma & Immunology states, "Allergic skin problems can occur following direct contact with allergic latex proteins in latex glove products. Symptoms may include immediate itching, redness and swelling of the skin that touched the item containing latex."
When you have a latex allergy and are exposed, antibodies tell your immune system to release chemicals, such as histamine, into your bloodstream, causing allergy symptoms. Through a process called sensitization, the more you are exposed to latex, the stronger your immune system is likely to respond. Read Skin & Health Magazines article on how to prevent (latex and vinyl) glove allergies. Read about alternatives to latex gloves and how to avoid these skin allergies.
Which Gloves Prevent Contact Dermatitis?
A few easy ways to reduce skin irritation caused by gloves are:
Do not use wet gloves

Do not wear gloves on a wet hand

Use powder-free gloves

Wash hands after glove removal with mild soap and dry thoroughly

Do not use oil-based creams and lotions while using latex gloves
A range of Eagle's nitrile gloves are designed for sensitive skin. They are made with patented LOW-DERMA™ skin protection technology which promotes allergy care with better protection to glove users with Type I Hypersensitivity (natural rubber latex protein) and Type IV Hypersensitivity (Chemical accelerators: thiurams, thiazoles & carbamates). Eagle LOW-DERMA gloves for sensitive skin are specially formulated for glove wearers prone to skin allergies and irritation.
We stopped supplying vinyl gloves due to the health and safety risks to the wearer. To reduce the chance gloves will irritate your skin we recommend, where appropriate, using nitrile or poly gloves made with high-quality raw materials and manufacturing processes.
Eagle Protect's proprietary Delta Zero™ glove quality testing process third-party tests and verifies a range of Eagle nitrile gloves are made with premium ingredients and manufacturing standards.
Cheap Gloves Increase Chance of Injury
Poor quality raw materials used in glove manufacturing increases glove thickness and reduces flexibility, resulting in a poorly fitting glove with poor dexterity and tactile sensitivity. As a result, the glove wearer needs to use stronger muscle force, leading to the chance of injury. These injuries include repetitive fatigue of the fingers, hands and arms, and contact trauma on fingers and thumbs due to extreme finger-thumb force movements required when using a thick and poorly fitting glove.
Food companies experience major costs related to glove use, and significant productivity losses due to injuries and OSDs.
OSD is one of the most frequent causes of lost time in the food industry, resulting in unnecessary turnover (Ford 2012). The median time away from work for repetitive motion MSDS associated with grasping, holding, carrying or turning objects was 17 days, with estimates placing the total cost associated with work-related musculoskeletal disorders between $13 and $54 billion annually. In the meat and poultry industry, the cost of training and equipping a new employee is between $1,500 and $4,500 per employee.

Quality Gloves Improve Productivity, Job Satisfaction & Morale
The implementation of new gloving policies and products to match workers' needs often results in improved productivity, job satisfaction and morale. Gloves manufactured in quality establishments using known, quality raw materials ensure against the use of unknown and toxic chemicals which can worsen skin allergies and irritation. Eagle Sensitive nitrile and Derma2 nitrile gloves are LOW DERMA, further negating allergic reactions. New formulation gloves can be made thinner, stronger and more flexible and in some cases have been described as a second skin. The muscle force required in this situation is equal to that without a glove. Eagle's new FineTOUGH glove is one such product that has unparalleled dexterity and strength.
Eagle Protect launched its multi-layered Delta Zero proprietary glove testing program. Delta Zero ensures a range of Eagle gloves adhere to the highest level of consistent glove safety and performance to mitigate the risk of contamination or change in raw materials during manufacturing.
Eagle's entire range of disposable gloves and clothing are made to the industry-leading Eagle Standard to ensure quality, safety, consistency and transparency. Find out how the Eagle Standard directly benefits our customers.
Written by: Lynda Ronaldson, VP Marketing
---
References:
Burnett CA, Lushniak BD, McCarthy W, Kaufman, J. Occupational Dermatitis Causing Days Away From Work in U.S. Private Industry, 1993.  American Journal of Industrial Medicine 34:568-73.

Bauer A, Kelterer D, Stadeler M, Schneider W, Kleesz P, Elsner P. 2000.  The Occupational Skin Disease Prevention Project in the Food Processing Industry. 11th Annual Meeting of the American Dermatitis Society, held on March 9, 2000 in San Francisco, CA.

Cahill J, Williams JDL, Matheson MC, Palmer AM, Burgess JA, Dharmage SC, Nixon RL. 2012. Occupational Contact Dermatitis: A review of 18 years of data from an occupational dermatology clinic in Australia.  Report for Safe Work Australia, March 2012.

Courtney TK, & Clancy EA. 1998. A Descriptive Study of U.S. OSHA Penalties and Inspection Frequency for Musculoskeletal Disorders in the Workplace.  American Industrial Hygiene Assn. Journal. 59:563-71.

Ford S. 2012. Skin problems in food handlers and the catering industry. DermNet New Zealand.

Morris R. 2011. Productivity: Small Changes Can Lead to Large Gains. Occupational Health & Safety. April.