Occupational skin disease (OSD) and injuries to the hand and upper limb (musculoskeletal disorders - MSDS) are hazards for any worker wearing cheap disposable gloves.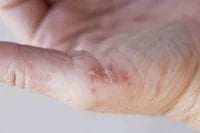 Contact dermatitis caused by cheap disposable gloves
Annually around 1.87 million American workers suffer from OSD at a total annual cost of up to $2 billion. The hand is the most common site affected by OSD, with protective gloves found to be the most common primary cause. In one study (Cahill et al, 2012) of over 2,000 patients, allergic contact dermatitis was diagnosed in over 50% patients with OSD, with the accelerators found in disposable gloves a source of the dermatitis. 
Cheap Gloves Increase Chance of Injury
Poor quality raw materials used in glove manufacturing increases glove thickness and reduces flexibility, resulting in a poorly fitting glove with poor dexterity and tactile sensitivity. As a result the glove wearer needs to use stronger muscle force, leading to the chance of injury. These injuries include repetitive fatigue of the fingers, hands and arms, and contact trauma on fingers and thumbs due to extreme finger-thumb force movements required when using a thick and poorly fitting glove.
Food companies experience major costs related to glove use, and significant productivity losses due to injuries and OSDs.
OSD is one of the most frequent causes of lost time in the food industry, resulting in unnecessary turnover (Ford 2012). The median time away from work for repetitive motion MSDS associated with grasping, holding, carrying or turning objects was 17 days, with estimates placing the total cost associated with work-related musculoskeletal disorders between $13 and $54 billion annually. In the meat and poultry industry the cost of training and equipping a new employee is between $1,500 and $4,500 per employee.
Quality Gloves Improve Productivity, Job Satisfaction & Morale
The implementation of new gloving policies and products to match workers needs often results in improved productivity, job satisfaction and morale. Gloves manufactured in quality establishments using known, quality raw materials ensure against the use of unknown and toxic chemicals which can exacerbate skin disease. Eagle Sensitive nitrile and Derma2 nitrile gloves are LOW DERMA, further negating allergic reactions. New formulation gloves can be made thinner, stronger and more flexible and in some cases have been described as a second skin. The muscle force required in this situation is equal to that without a glove. Eagle's new FineTOUGH glove is one such product that has unparalleled dexterity and strength.
Eagle Protect launched its multi-layered Delta Zero proprietary glove testing program. Delta Zero ensures Eagle gloves adhere to the highest level of consistent glove safety and performance to mitigate the risk of contamination or change in raw materials during manufacturing.

Written by: Lynda Ronaldson, VP Marketing
---
References:
Burnett CA, Lushniak BD, McCarthy W, Kaufman, J. Occupational Dermatitis Causing Days Away From Work in U.S. Private Industry, 1993.  American Journal of Industrial Medicine 34:568-73.

Bauer A, Kelterer D, Stadeler M, Schneider W, Kleesz P, Elsner P. 2000.  The Occupational Skin Disease Prevention Project in the Food Processing Industry. 11th Annual Meeting of the American Dermatitis Society, held on March 9, 2000 in San Francisco, CA.

Cahill J, Williams JDL, Matheson MC, Palmer AM, Burgess JA, Dharmage SC, Nixon RL. 2012. Occupational Contact Dermatitis: A review of 18 years of data from an occupational dermatology clinic in Australia.  Report for Safe Work Australia, March 2012.

Courtney TK, & Clancy EA. 1998. A Descriptive Study of U.S. OSHA Penalties and Inspection Frequency for Musculoskeletal Disorders in the Workplace.  American Industrial Hygiene Assn. Journal. 59:563-71.

Ford S. 2012. Skin problems in food handlers and the catering industry. DermNet New Zealand.

Morris R. 2011. Productivity: Small Changes Can Lead to Large Gains. Occupational Health & Safety. April.