Emil Ekvardt from Great.com interviewed Eagle Protect as part of their 'Great.com Talks With...' podcast. This series is an antidote to negative news stories that aims to shed light on organizations and experts whose work is making a positive impact on the world.
A Glove Company Founded on Honesty & Integrity
Before the coronavirus pandemic began, the USA used a staggering 120 billion disposable gloves a year. As the world grows increasingly familiar with masks, sanitizer and PPE, the number of gloves we use is also rocketing. Steve Ardagh discussed the vital role high quality and rigorously tested gloves play in preventing illness and reducing waste.
Eagle Protect sells disposable gloves and clothing to the food and medical sectors in the USA. We hold the unique industry distinction of being B Corporation certified. This means that Eagle Protect meets a high standard of social and environmental performance, transparency and accountability. 
Steve explained the three aspects of Eagle Protect's ethos that set us apart from other companies.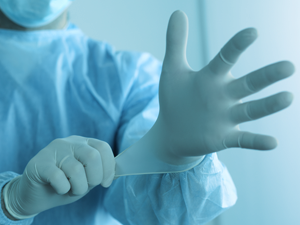 Firstly, we pride ourselves on our ethical supply chain. We visit our factories to make sure that workers are well treated and paid a fair wage. The factories that manufacture our gloves are independently audited to ensure no one is exploited.
Secondly, Eagle Protect prioritizes food safety. It is important that customers understand where gloves come from, the materials they are made from and the hygiene standards the gloves meet. Shockingly, there are very few safety checks on gloves entering the USA. But Steve believes we should treat gloves with the attention and respect we would a knife or a kitchen surface; all three things come into direct contact with the food we consume.
Finally, Eagle Protect aims to limit the environmental impact of disposable gloves, finding better quality raw materials and improving glove design to reduce product failure and waste.
Listen to the whole interview to find out more about how Eagle Protect is leading its industry in positive environmental impact and to learn what the future might hold for the health and food sectors. Or click below to see Eagle's latest environmental and social impact report.
---

Great.com is an organization aimed at solving the world's most dire problem — global climate change. Their mission is to take money from an otherwise harmful and greedy industry (online casinos) and move it towards a positive and good cause (solving the climate crisis). In addition to directly donating 100% of the revenue they earn in the casino industry, they also launch and manage fundraising campaigns to persuade casino entrepreneurs to donate. So far, they've generated over $2 million to climate research through their own donations and proceeds from their fundraising initiatives.