OP 19: Waste Minimization & Diversion Credits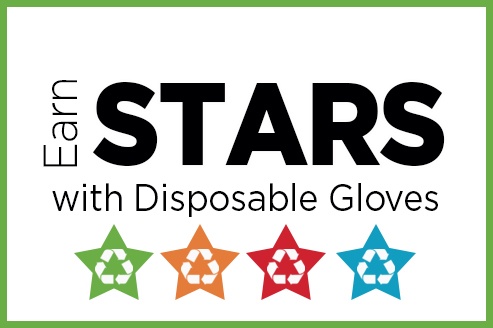 Colleges and universities use the Sustainability Tracking, Assessment & Rating System™ (STARS®) to measure their sustainability performance.
The Association for the Advancement of Sustainability in Higher Education (AASHE) states institutions can earn Operations points per OP 19: Waste Minimization and Diversion. This subcategory seeks to recognize institutions that are moving toward zero waste by reducing, reusing, recycling and composting.
AASHE notes, "this credit includes on-campus dining services operated by the institution or the institution's primary on-site contractor."
That's where partnering with Eagle Protect comes in, by reducing glove waste through better product choices, for credits for OP 19: Waste Minimization & Diversion credits.
Why better quality disposable gloves reduce glove & packaging waste
Institutions can earn credits when their dining services partner with Eagle Protect to contribute to overall waste reduction goals. 
Part 1: Reduce total waste by 50% or more
If not monitored closely, a low-quality food handling glove may seem to be "doing what it's supposed to do," but instead it may be creating considerable unnecessary waste. How?
Each situation creates unnecessary waste that can be easily eliminated through the selection of better quality and cost effective disposable food handling gloves. 
Part 2: Total annual waste generation per weighted campus user is 90% less than the minimum performance threshold
The campus-wide reduction in food handling disposable glove use can add up to a significant amount of eliminated glove and packaging waste, aiding in the campus' overall waste reduction goals.
One protective glove doesn't fit all situations. At Eagle Protect we help select the best disposable gloves to suit our customers' needs, to cost effectively reduce their waste.
Eagle Protect specializes in sourcing the best nitrile gloves - protective gloves made from high-quality raw materials with top manufacturing processes in clean factories. Higher quality gloves require less gloves to be used, saving the institution waste and money.
Purchasing Eagle Protect nitrile gloves will positively impact your sustainability goals and reduce waste.
Protect your campus. Reduce waste. Earn your STARS!