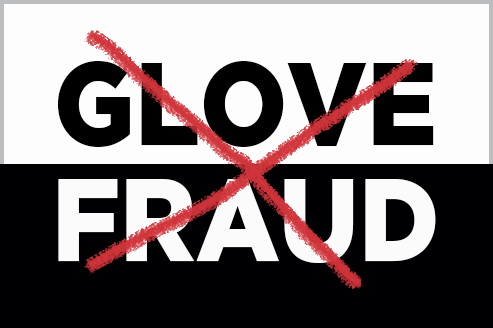 With the reported cases of food fraud increasing steadily in recent years, supply chain transparency is becoming more and more essential in order to identify the "hot spots" requiring traceability.
To combat food fraud, the origins of the raw material of products in the supply chain are now being identified through databases and traceability systems. Product testing is also becoming an important tool for the food industry to become confident in the sourcing of raw materials.
Fraud cases threaten consumer trust in products and services, and companies are putting in place measures to prevent fraud and protect their products, their brands and their consumers.
TAKING ON GLOVE FRAUD
There is one such area in which Eagle Protect is combating fraud - glove fraud.  With disposable gloves in direct contact with food, from processing to purchasing, it is essential the gloves' raw materials touching your food are known, tested and safe for food contact.
Few controls are required for glove manufacturing relating to the reliability of raw materials, manufacturing processes and factory compliance. Opportunity exists for deliberate or accidental contamination within the manufacturing process.
What is Glove Fraud?
Cheaper raw materials substituted

Manufacturing processes altered

Hygiene practices changed
Fluctuating raw material prices and the demand for lower costs from the end user both pressure manufacturers to sacrifice ingredient quality, and substitute other materials to meet these demands. These can include increased levels of cyanide and inexpensive phthalate plasticizers known to migrate to food and the glove wearer. 

One of the many shortcuts common in the low-cost manufacturing of disposable gloves is the reduction of wash-tank clean-out or water quality. This leads to a longer build-up of microbes and chemicals on the gloves, which can further effect those wearing gloves and the food handled. 
How can I mitigate glove fraud?
To mitigate these risks, it is important companies partner with trustworthy and transparent glove suppliers to improve their food safety practices. Full supply chain transparency is challenging but essential to avoid fraudulent activities. Traceability and transparency in the supply chain of gloves is essential to prevent this.  
Eagle Protect's Supply Chain Transparency goal further highlights known disposable glove manufacturing hotspots and reinforces Eagle's actions to combat these, including the substitution of cheap raw materials and the standards of manufacturing by our suppliers.
---
Written by: Lynda Ronaldson, VP Marketing