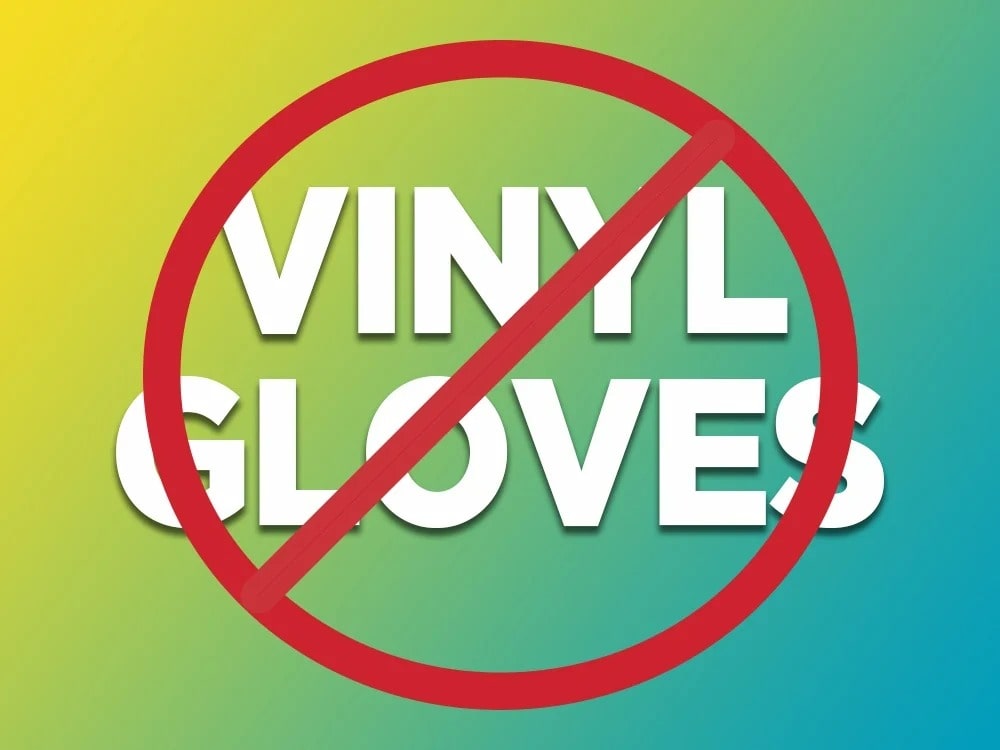 As of January 2018, Eagle Protect has decided to discontinue supplying vinyl gloves to the US food handling and processing industries.
Eagle has previously sold vinyl (PVC) gloves with a number of recommendations based around the shortcomings of the gloves - in relation to their permeability and potentially toxic raw materials  - and did not recommend them for direct food handling.

With Eagle's growing research, conducted by international food safety consultant Barry Michaels, into the science of disposable gloves and their food safety implications, it has become increasingly obvious that vinyl gloves are an ineffective barrier in food handling as well as dangerously impacting environmental and human health. Michaels describes vinyl gloves as "infection control nightmares."
MICHAELS DESCRIBES VINYL GLOVES AS "INFECTION CONTROL NIGHTMARES"

The manufacture and disposal concerns over toxic pollution, the potential toxic effects to both the glove wearers and the food they touch and accumulating scientific research on the cross-contamination risks of vinyl gloves, mean we cannot in good faith recommend them to our customers as a food-safe option.
There are many recent findings which point to vinyl gloves ineffectiveness and toxicity potential:
Environmental
The impacts of PVC across its life-cycle, including manufacturing and disposal issues finds PVC leads to the release of dangerous quantities of dioxin and other carcinogenic emissions. A report from the U.S. Green Building Council found, "the risk of dioxin emissions puts PVC consistently among the worst materials for human health impacts..."
To ensure cheap glove prices,

vinyl glove factories use coal fired boilers

. In 2017, the Chinese Government forced these factories to cease production for at least three months in an attempt to reduce dangerous levels of pollution.
Food Safety*
Studies highlight the lack of cross-linking of the PVC polymer and together with plasticizers which weaken the vinyl glove structure, micro-punctures will occur within only a few hand flexes or food handling tasks undertaken by the glove wearer.

In some cases vinyl gloves begin leaking as soon as they are donned.

Numerous studies have proven vinyl gloves have an increased permeability to bacteria and virus, further compromising food safety.

New research, by International food safety expert Barry Michaels, 

shows vinyl gloves have three times the cross-contamination potential of Eagle nitrile gloves.

The

best disposable gloves to spread Listeria

are cheap vinyl gloves.
Worker Safety
Up to 50% of

vinyl gloves

are made up of

plasticizers

, which can contain

phthalates

and BPA. Phthalates have been shown to leach from products into the human body

(Zota et al, 2015)

, and can easily leach and evaporate into food, particularly fatty food. Phthalates DiNP and DEHP have been found to adversely impact human health  (

Braun et al, 2013

,

Ejaredar at al 2015

)

and are on the

Prop 65 list of chemicals

known to the state of California to cause cancer.

Due to the 

weak PVC structure

, a thicker vinyl glove is required.  This increases glove resistance and bulkiness, causing repetitive fatigue injuries and contact trauma to fingers and thumbs, read more

here

.
What do we recommend as safer alternatives to vinyl gloves?
Nitrile gloves are a food safe and cost-effective alternative. Recent advances in the raw material formulations and manufacturing of disposable nitrile gloves have resulted in thinner yet stronger, more flexible and better fitting gloves. The higher the quality of nitrile glove, the less failures (holes and rips), mitigating the risks of food contamination from a disposable glove.
Due to the raw material formulation and processes undertaken during manufacturing, Eagle Protect Sensitive nitrile gloves have unique surface characteristics with overall surface energy and transfer characteristics similar to Teflon®, reducing the risk of potential cross-contamination in ready-to-eat foods, read more here.
For more information on swapping to food safe nitrile gloves, talk to an Eagle Protect expert today!
*Eagle Protect is collaborating with Barry Michaels, international scientific consultant on food safety, to further food safety research and education, and to advance food safety practices for their customers.
Full details of this research can be found in Michaels B, 2017. Summary of Hand & Glove Surface Cross-Contamination Potential in Retail Deli, Food Processing & Service Environments Based on Surface Energy Studies (Available upon request from Eagle Protect PBC). Download a summary of the latest research here.